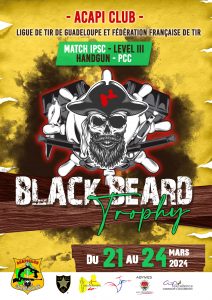 Black Beard Trophy IPSC level 3 Guadeloupe – Handgun PCC
TRAVEL WITH GUNS TO GUADELOUPE
Guadeloupe is a French island, then you don't need specific authorization to come with your guns.
You are allowed to travel by plane with 5Kg ammos per person.
 For specific packaging you will have to ask to the airline companies because they all have different rules. 
On the territory, the gun must be locked or disassembly in a locked box in the car trunk, ammos separated of the gun.
Invitation letter is available here.
Beware not to travel through ST Marteen Juliana airport where guns are forbidden
Guadeloupe is a beautiful island in the Caribean, temperature is all year long between 25 and 35°C, the sea never under 27°C. You will find lots of beaches and forrest with all the sports you could look for (fishing, swimming, canyoning, skydiving, trail…).
For your diner you will find a lot of restaurants, bars … in Le Gosier, Saint François, Le Moule, Sainte Anne.
We work for different partners to have special prices.
Accomodations:
– MG DOYON for Villas and Apartments +590 690 08 56 77
Cars:
BLACK BEARD TROPHY will be held in city of Les Abymes at ACAPI range, located 100m from the airport, location is on the website.
You will begin shooting early in the morning because the sun fall down at about 6PM.
Lunches are included in your registration fee for the days you are shooting and for the awards ceremony on Sunday.
If you need lunch for people accompanying you, ask for it as soon as possible, it will cost you 6€ on shooting days and 15€ for awards ceremony.
Reservation required before March 1St.
For match ammunition, stock are very limited, reservation before November 15th. (28€/50)
You will receive informations about squadding in this website.